Shirin has paid a lot for both Afghanistan's conflict and its abrupt end to the Taliban's victory. Three years ago, her husband lost his leg when a roadside bomb hit his bus. So in the summer, the militants' victory brought peace to her corner of Helmand, but a stop to the foreign aids that paid her wages as hospital cleaners and kept the family afloat.
They came back with the rent, were evicted from their homes and started running out of food. Three weeks ago, worn down by cold, hunger and disturbance, Mohammad Omar died of wounds that had never fully healed, leaving her as a single mother to their four children.
'He died due to lack of money. No one would even give us a loan, "said Shirin, 50." We suffer too much, but if we just got our paycheck, everything would be settled. "
But even when she was not paid, she kept coming to the Gereshk District Hospital to work in the maternity ward. "We are needed here," she said when a newborn girl was rushed off to get oxygen, and she was preparing to move the mother into a recovery room and sterilize her bed for the next patient.
The wards need a cleaning assistant to stay as safe as possible for new mothers, even in a hospital that is starving for cash and slowly stalling like this one. Last month, the operating room had to close because there was no money for fuel for the generator – there is no mains power in this rural corner of Helmand near the former Camp Bastion – or any gas to sterilize their equipment.
So women whose lives depended on having a caesarean section, a victim of a car accident who needed open breast surgery, and people with inflamed appendixes all had to be sent away in taxis with a prayer that they would survive the hour of driving to Lashkar Gah, where Boost Hospital backed by charity Doctors Without Borders still had power and supplies.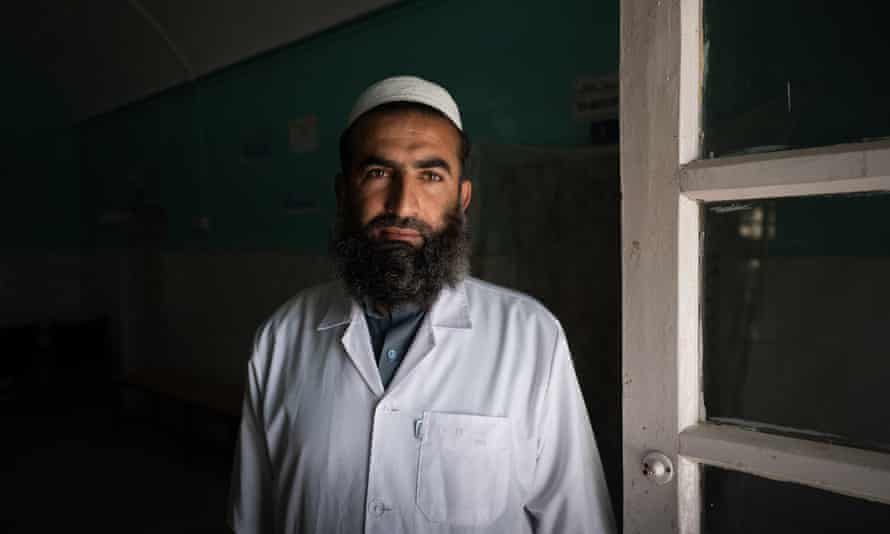 The roads may have been free of the bombs and gun battles that prevented so many people in Helmand's villages from reaching medical care, but the hospitals and clinics no longer functioned properly.
"I could tell you about many cases," said surgeon Karim Walid. "There was a woman who needed a caesarean section because of the baby's position. She had no money, so we went around collecting a few thousand Afghans for a car to take her to Boost. "
The laboratory ran out of test equipment, for malaria-HIV diseases, for blood counts or blood sugar levels. "All we had left were pregnancy and TB tests," said laboratory manager Bashir Ahmad Majar.
Eventually, even gloves got loose up to midwives on the maternity ward. "We asked those who could afford them to buy their own," said Malalai, a midwife who worked with Shirin. For the others, the hospital went into debt. "I get calls every day from the store owners asking me why you are not giving us the money you owe us," said Haji Mohammad Barak, director of Gereshk Hospital until early November, now provincial head of a health program.
Fortunately, they had managed to patch a hole in the 24-hour department's roof, made by an air strike in the last days' matches, before the money totally ran out, he said. The bomb miraculously landed right between the five beds along the ward walls without causing any serious damage.
The head of the World Health Organization, Tedros Adhanom Ghebreyesus, visited Kabul in September and warned that the entire health care system was on the verge of collapse, prompting the UN to arrange for the payment of a month's salary.
The operating room in Gereshk has reopened, the laboratory has been filled up, and medical staff say they have been promised an additional three months' salary. But these are temporary solutions that run out in the middle of Afghanistan's bitter winter.
"We need something permanent; we can not just get a few months' salary, then everything goes again, "said the midwife Malalai, who is the family's main breadwinner. "Do not leave us here without hope."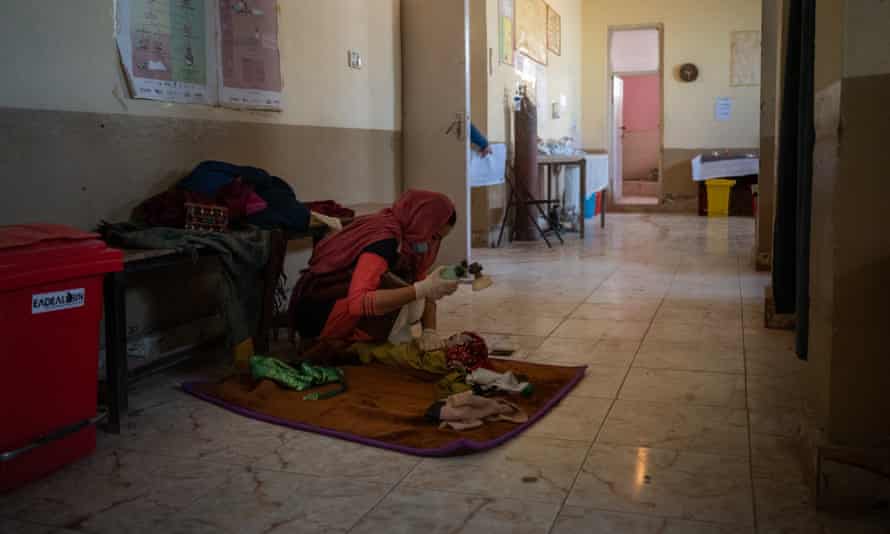 Western governments, which had supported the health and education sector and were shocked in August by the unexpectedly quick victory of a group they had sanctioned as terrorists, cut off all funds without making plans to support schools and hospitals that had been built to be dependent on overseas assistance.
They were concerned about giving legitimacy to a government that has imposed extensive restrictions on women's rights to work and study and that has been linked to other human rights violations, including targeted killings and mass displacements.
But it is not senior Taliban officials who are paying the price for the freezing of funds. "Do not make the mistake of thinking that I will suffer sanctions," said a senior Taliban official in Kabul. "I will always get my salary, my meals and money to keep my office warm."
It is the lives of ordinary Afghans that are at stake. Tedros warned that the abrupt halt to international funding had left healthcare providers making terrible decisions about "who to save and who to let die". The reality in Gereshk was even worse.
Since the hospital was barely functioning, they could only tell patients in dire need to go to Boost Hospital. It was the only fully functioning medical center for at least 1.5 million people in the province, and unofficially for hundreds of thousands more in neighboring provinces. Some days, more than 700 patients intruded on an emergency room designed for just over half that number.
"The health care system in Afghanistan was very donor-dependent, and the donors withdrew their support," said Emmerson Gono, project coordinator for Médecins Sans Frontières in Helmand. The consequences of this cut-off are tragic and are felt immediately.
"We are overwhelmed by the workload, people come from all over the province and even other provinces," he said. "We go far beyond our capacity because we do not want to turn down anyone we see is critically ill."
It may be hard to imagine a health system "collapsing", but you can see the human cost of the funding cuts at Boost Hospital, in the fragile bodies of children plagued by disease and malnutrition, or being driven to the morgue.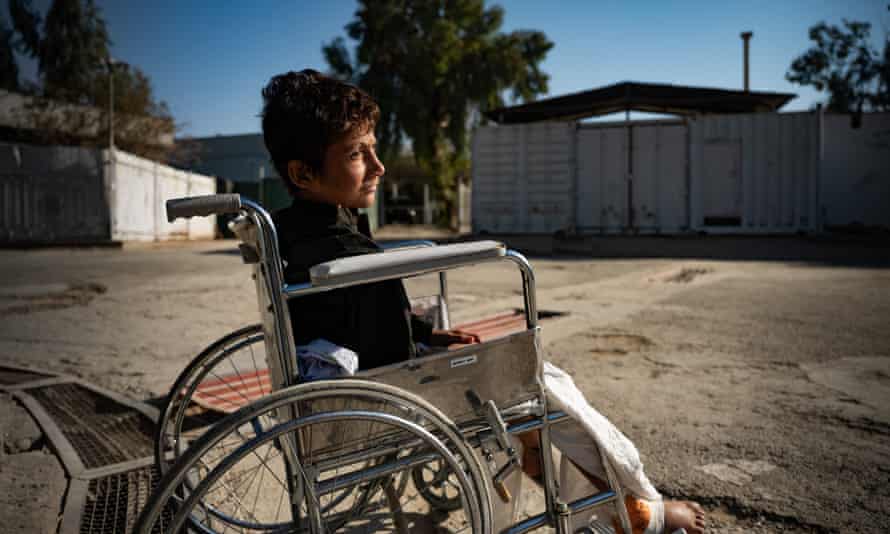 On a clear, crisp morning last week, hospital officers wrapped the small body of a six-year-old boy in to take with them. He had just lost a battle with bacterial meningitis, which he should have survived.
"We gave him a very strong antibiotic, but it was too late," said the senior Afghan doctor on the ward, who asked Doctors Without Borders not to be named. The clinic in the Garmsir district, where the boy first sought help, had no capacity to test his blood, confused his illness with poisoning and tried to treat him for it.
Outside stood a 12-year-old diabetic, paralyzed from the waist down, licking the sun as he slowly recovered from bedsores that had reached his bones, leaving him in the intensive care unit.
Zabihullah's family is trapped in a circle of poverty and poor health care, said nurse Alyssa Tianna Ranger. The family has to travel to Lashkar Gah to get insulin for his treatment because no local clinics can provide it and because the family struggles to feed him well and control his blood sugar, wounds develop easily and quickly.
"It's expensive for our family to come here," said his mother, Marzia, while her son smiled despite his pain. "We were already poor before his diagnosis three years ago. "Things are getting worse now, but we have no choice."
Like many of the poorest, they have been hit by several crises. The Taliban's control sent the economy into free fall: it fell by at least a third. The government is not paying wages, internationally funded jobs have disappeared and food prices have risen. The impact is particularly noticeable in the severely overcrowded malnutrition wards, where the number of painful skeletal children has increased. Autumn usually brings a respite because dehydration is worse in summer, heat, but not this year.
Children who get a little nutritious food are extremely vulnerable when other diseases – stomach problems, respiratory diseases – ravage their small bodies and make them unable to eat.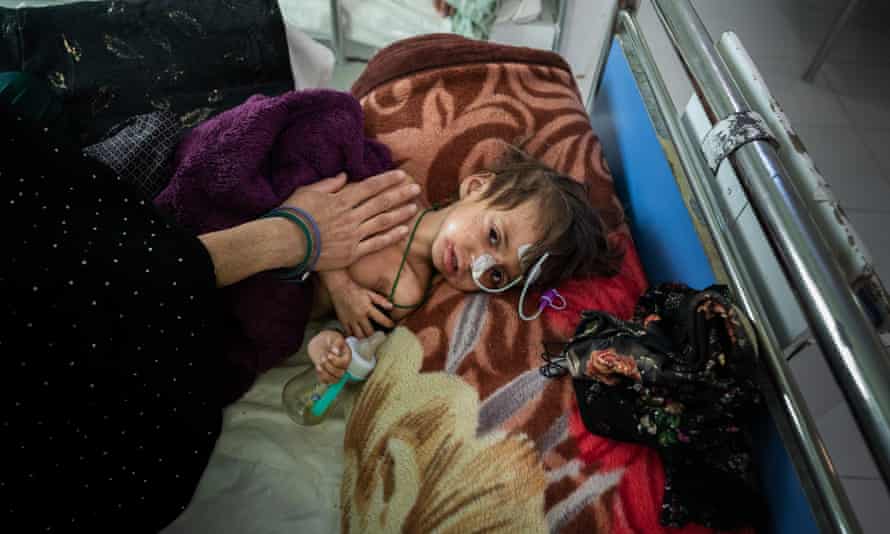 Nazdana came here in a desperate attempt to keep three-year-old Khalida alive after clinics in her hometown of Yakhchal could not stop the vomiting that wasted her child away.
To get the money to travel, she had weighed the value of two daughters' lives and made an engagement contract for the girl's five-year-old sister. The wedding will not last in 10 years, but Nazdana received an advance of 15,000 Pakistani rupees (£ 63) on the dowry of 600,000 rupees, enough for the trip.
"I spent some of the money coming here the very next day," she said. In a functioning health care system, Khalida should eventually be prescribed for the care of local clinics, which distribute supplements as calorie-rich "plumpy nut". Without these surgeries, some children are trapped in a cycle of malnutrition that sees them return to the ward again and again.
While the international community is considering whether to commit to long-term funding of the health care system again, they are likely to view with particular concern the decision to put senior Taliban in all administrative positions overseeing clinics and hospitals.
Most were warriors just a few months ago, and Gereshk District Health Commissioner Mohammad Nasim admits he has no background or expertise in the sector. "It's a decision from the Islamic Emirate, I do not know why they chose me for this position," he said, using the group's name for himself. "It's time for me to serve the people."
But there were also reports of problems with the officials they had replaced; several health sources said they found the new Taliban director of the province, Ahmad Alghazi, easier to work with and less corrupt than his predecessor under the Republic's government.
He promised in an interview that female medical staff would remain in their roles, and female patients would be able to access health care without a guardian, and that polio vaccination campaigns – which the Taliban have sometimes opposed in the past – would continue.
But he also warned the West against throwing goodwill away by cutting off hospitals in their distress. "The international community should prioritize the needs of poor people who have seen too many problems," he said. "This is a good chance, because there is no corruption now, to support the healthcare sector. It will not be there forever."
From the director of Boost Hospital working under him, there was a simple plea to donors to put the lives of Afghan patients ahead of their conflict with the new government.
"I hope the international community will not mix health and human rights with political issues," Faizullah Mohammadi said. "We desperately need your support, and as a fellow human being, I ask that you do not leave Afghanistan alone in this disaster."