"I do not know who did this work, it is the enemy of Islam. But they can not create differences among Muslims," ​​he said.
The blast took place a few days after an attack claimed by Islamic State militants, who killed dozens of Shia worshipers at a mosque in the northern city of Kunduz.
Sunni Muslim fighters from Islamic State have repeatedly attacked Shia Muslims in the past. The Taliban are also strict Sunni Muslims, but have promised to protect all ethnic and sectarian groups since coming to power in August when US forces withdrew.
The Iranian embassy, ​​Afghanistan's neighbor and the region's largest Shiite power, condemned the attack.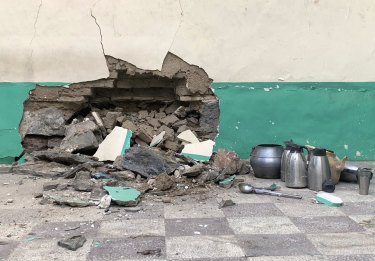 "We hope Taliban leaders take decisive action against these wicked terrorist incidents," it read in a tweet.
Taliban special forces arrived to secure the site and an appeal went out to the residents to donate blood to the wounded.
The blast, which came so shortly after the Kunduz attack, underscored the increasingly insecure security in Afghanistan as the Taliban struggle with an escalating economic and humanitarian crisis that threatens millions with hunger.
Islamic State's local subsidiary, known as Islamic State Khorasan after an old name for the region that covers Afghanistan, has escalated attacks following the Taliban's victory over the Western-backed government in Kabul in August.
Loading
Taliban officials have downplayed the threat from Islamic State and rejected proposals that they could accept US aid to fight the group. But the repeated attacks have weakened their claim to have brought peace to Afghanistan after four decades of war.
The fact that the Shia Muslim minority has been hit again may also create tensions among ethnic and sectarian groups in the predominantly Sunni Muslim country.
Most Shia Muslims in Afghanistan belong to the Hazara ethnic group of Persians, who have previously complained of persecution under the predominantly Pashtun-speaking Taliban.
Reuters and AP
Get a note directly from our foreign correspondents about what makes headlines around the world. Sign up for the weekly What in the World newsletter here.