In 1998, my family decided to leave Afghanistan forever. The Taliban had emerged four years earlier and in 1996 had taken control of Kabul, Afghanistan's capital, and imposed an ultra-conservative interpretation of Islamic sharia law. The Taliban regime was known for its cruel corporal punishment, including public executions, repression of religious and free speech, and the destruction of Afghanistan's historic heritage. The year we traveled, the Taliban massacred 2,000 Hazara men and boys in the northern city of Mazar-i-Sharif.
Seventeen years later, I decided to return to live and work in Afghanistan. The Taliban had been driven from power by the US-led war on terror, but Taliban insurgents had resurfaced and organized frequent suicide attacks targeting schools, educational centers, universities, mosques and hospitals, and arbitrary attacks on civilians.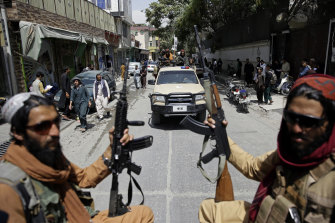 In 2014, I started my assignment at a foreign donor agency in the country. My return coincided with the signing of a new bilateral military agreement by the Afghan administration and its allies in the United States and NATO. The Taliban retaliated with intense attacks on civilians. I distinctly remember the day we had four massive explosions near my office aimed at aid workers and civilians. I had just arrived and it was one of the hardest days for me in Afghanistan.
Shortly after, daily and weekly bombings of civilians were something I adapted to as part of my new normal. The Taliban insurgents took direct responsibility for these attacks.
On August 15, Kabul fell once again to the Taliban, without resistance or a formal transfer of power. During the night, my country's name changed from Islamic Republic of Afghanistan to Islamic Emirate Afghanistan, and its flag changed to Taliban.
But while the Taliban have managed to take de facto control of the country, formal international recognition of its Islamic emirate is still elusive.
Under the previous regime from 1996 to 2001, the Taliban's emirate received recognition from three countries: Pakistan, the United Arab Emirates and Saudi Arabia.
The international community is faced with the difficult question of whether or under what conditions it will formally accept this new Taliban government.
Recognition of a state or government under international law is not straightforward. Article 1 of the Montevideo Convention sets out the requirements for the recognition of a state as follows: "The state as a person governed by international law should possess the following qualifications: a permanent population; a defined territory; government; and the ability to enter into relations with the other states."