34,000 Afghan refugees are back at seven US military bases three months after the evacuation mission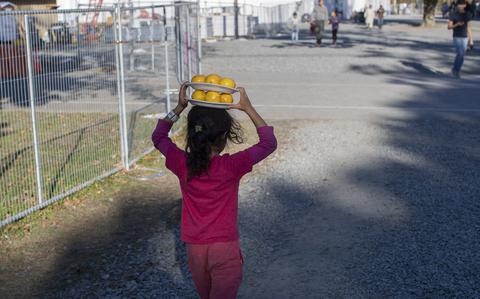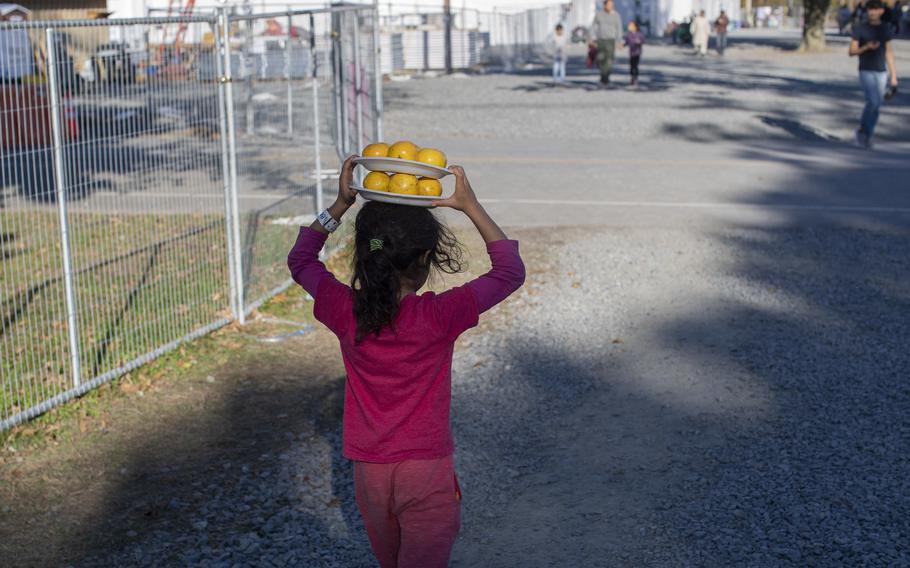 An Afghan girl carries oranges in Liberty Village at Joint Base McGuire-Dix-Lakehurst, NJ, November 8, 2021. The Department of Defense provides transportation, temporary housing, medical screening, and general support to Afghan evacuees at U.S. military bases (Matt Hecht / US Air National Guard)
WASHINGTON – About 34,000 Afghan evacuees are still living at seven U.S. military bases more than three months after the U.S. military last flew out of Kabul on August 30, Pentagon chief John Kirby said Monday.
The number has dropped from 53,150 evacuees living in eight installations in the United States, which was reported on October 26th. Since then, Fort Lee, Va., On November 17 ended its participation in Operation Allies Welcome, the name of the mission that supports Afghan evacuees in their transition to America, Kirby said.
The military has housed Afghan evacuees at eight installations in the United States since late July, when evacuations began in the final weeks of 20-year U.S. involvement in Afghanistan. The drop in numbers could mean nearly 20,000 Afghan evacuees have been treated out of the camps and are now settling across the United States.
"We have now, we have fewer Afghans at military bases than ever before, and more have now been treated than we have been waiting to be treated," Kirby said.
The bases in the United States that continue to host Afghans are Fort Bliss in Texas, Joint Base McGuire-Dix-Lakehurst in New Jersey, Fort McCoy in Wisconsin, Camp Atterbury in Indiana, Holloman Air Force Base in New Mexico and Fort Pickett and Marine Corps Base Quantico in Virginia.
At the top of the mission's operations, the bases had a capacity of 64,000. After Fort Lee completed its share, capacity is down to 46,000, Kirby said.
"We are pleased to see that a majority of those who came to the United States have now been resettled," he said.
Kirby on Monday could not say how much longer the mission will last and what base could be next to complete its evacuation-support operations. Fort Lee was the first to assist with the mission, and the first to complete operations.
So far, the United States has pledged about $ 13.3 billion to Afghan resettlement efforts, about half of which came in an expense bill in September. The second half came as part of the continued decision signed into law Friday on keeping the government funded until February 18.
The funds have received criticism from some Republican lawmakers, such as Senator James Lankford, R-Okla.
"The only response I've seen from this administration when it comes to the withdrawal debate in Afghanistan is to throw more money at the problem – and now the Democrats want an additional $ 7 billion for the Afghan resettlement process on top of the $ 6 billion they already have. have spent the last three months, "Lankford said in a statement Friday.
Rep. Jim Banks, R-Ind., Also criticized the move in a tweet Thursday, noting "Congress would not even approve $ 8.6 billion for Trump's border wall."
In all, the United States helped evacuate some 120,000 people from Afghanistan. About 69,000 of those evacuated, which included Afghans who had helped Americans during the 20-year conflict, have come to the United States, Lankford said.
.